It all started in my grandma's kitchen...
Since I was a young kid, after my half days at school, I would go over to my grandparents' house to spend the rest of the day with them while my parents were away at work. I would always volunteer to bake with my grandma. From  young age, I was already changing her recipes! When my mom went on leave for the birth of my sister, we spent a lot of time together in the kitchen, both at home and at the community cooking classes. This really allowed me to cement my love for the kitchen. As the years went by, I would continue to bake and learn new techniques.
When I entered high school, my love for the kitchen and pastry probably tripled. My high school had a culinary program, allowing me to graduate with a Specialist High Skills Major (specialist designation on high school diploma) in Hospitality and Tourism – Culinary Arts. I took four culinary arts courses, one restaurant management course, and a few additional courses that helped me understand the Hospitality and Tourism industry as a whole.
This really enabled me to successfully apply for a Bachelor of Hospitality and Tourism Management at Algonquin College of Applied Arts and Technology. After four years of post-secondary studies in Hospitality and Tourism, two internships in pastry, and being surrounded by classmates who were following their dreams, I decided I needed a change.
Two years later, I started my first class at École Ducasse – École Nationale Supérieure de Pâtisserie, in Yssingeaux, France. After six months of intensive studies in pastry, I graduated with a Diploma in French Pastry Arts and carried on to my internship at the Sainte-Barbe Hôtel & Spa MGallery. Now, I am currently a pastry cook at the Cures Marines Hotel & Thalaso MGallery, continuing my dream of being immersed in French pastry.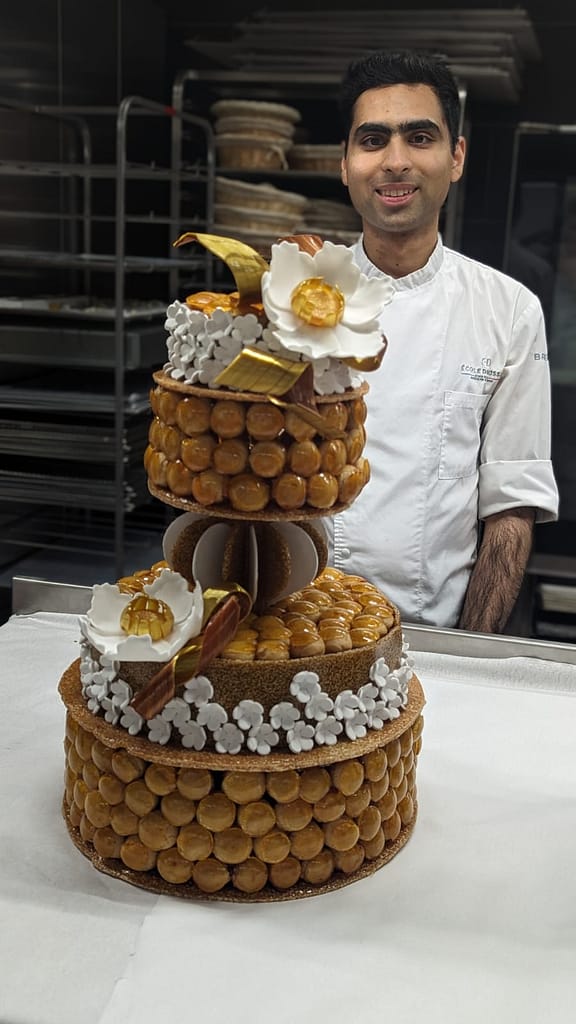 Having started in professional kitchens when I was 13, allowed me to gain valuable experience in the way a kitchen works and grow from a young age.
With over 6 years of education, I'e attained a Specialist High Skills Major (High School) in Hospitality and Tourism – Culinary Arts, a Bachelor of Hospitality and Tourism Management (Co-op), and a Diploma in French Pastry Arts.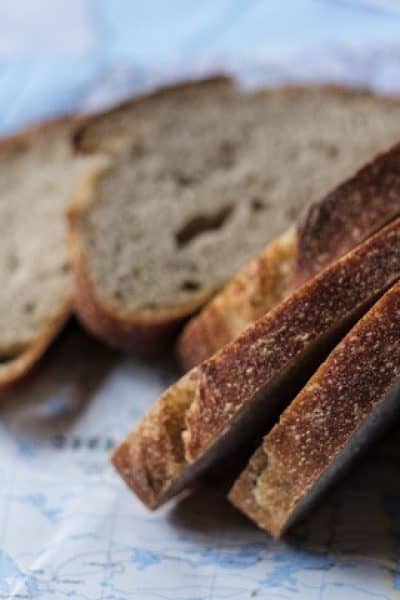 Slow
Slow food is the base of all food as we know it. Even 100 years ago, there was no Instant Pot or McDonald's. Bread was made by hand and dry yeast was not even around until the 1940s. I concentrate on the traditional ways of making food, where flavour development is innate.
Handmade
Handmade food is what gives you an edge over everyone else. I have been handmaking my food since I was eight and have no plans to stop. Buying a pie shell from the store or buying a loaf of bread are not part of my vocabulary. I take personal responsibility for showing you how to make the best handmade food.
Sustainable
Sustainability is a very important pillar of food production. Ensuring that what we are growing, using, and consuming is done in a sustainable way so that future generations (or our own generation) are able to continue to benefit from it. It is also important that we ensure that all humans are able to get equal access to a necessity of life, food.
Some images on this page were taken by and copyright Suzanne McCarthy and used under exclusive licence.
Since joining the BHTM Student and Alumni Society Ahmed has demonstrated exceptional expertise in leadership. His improvements to the Society have increased productivity and communication amongst all our Board Members. He is a motivated and hardworking individual both in his role as Vice President and Chairman, but also in his studies at Algonquin College. He is dedicated to the hospitality industry and he consistently demonstrates a solid work ethic. He is capable, motivated, and forward-thinking. I would highly recommend Ahmed both as a team player and as a leader.
Ahmed is a motivated and intelligent student who has worked hard to gain a great knowledge of the hospitality and tourism industry. For the last three years Ahmed has been a student of mine in the financial courses for the Bachelor's in Hospitality and Tourism Management at Algonquin College. During this time Ahmed has shown strong work ethic, a great ability to help others through his tutoring and analytical and problem solving abilities. Ahmed is not only reliable and forward thinking, but he has also been a great team player as he has lead our Students Alumni Society to some innovative changes. I recommend Ahmed for any path that he chooses as he would be an asset for any company.
Marc Brennan, MBA, CHIA, CAHTA
I first met Ahmed through school at Algonquin College. Despite us being a couple year's apart in our mutual degree, he has always played a key role in creating success and recognition for our BHTM program. This year I have been given the opportunity to work directly with Ahmed through the BHTM Student and Alumni Society. As president, he has shown dedication to the success of the society and its future direction. Ahmed has proven to show excellent time management skills through the planning of meetings, events, and other on-going activities. He also will always make time to meet one-on-one to discuss relevant goals, problems, and solutions. Ahmed's passion for creating success for himself and others cannot go unrecognized.